The Next Celebrity Apple is Washington State's Cosmic Crisp
WSU and the state's orchard industry are setting all sorts of records in getting the promising Cosmic Crisp variety to market.
By M. Sharon Baker October 31, 2017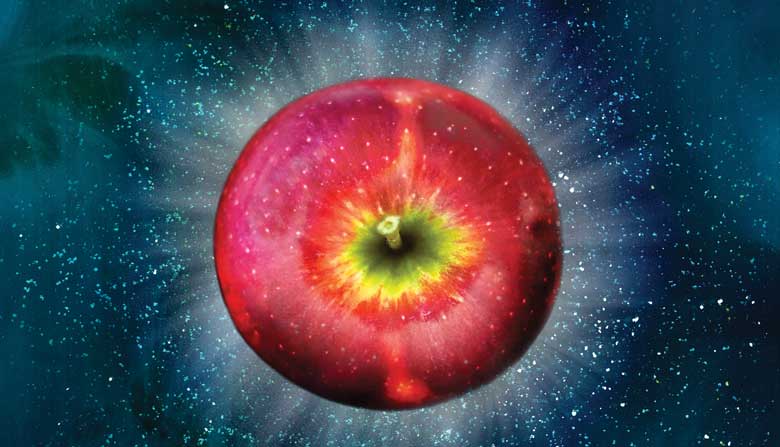 This article appears in print as the cover story for the November 2017 issue. Click here for a free subscription.
Washington state is widely known as one of the best places in the world to grow apples, but it isnt particularly well known for breeding them a fact that bothered growers like Robert Kershaw and scientists like Bruce Barritt in the 1990s.
When I got out of college, I was absolutely shocked that our industry was Reds and Goldens and that any new variety seemed to come from some other country, says Kershaw, whose family started growing pears and apples in Yakima in the 1900s. All the cool stuff was coming from somewhere else.
Washingtons most successful apple, the Red Delicious, was developed in Iowa. The Golden Delicious got its start in West Virginia, the Gala in New Zealand and the Granny Smith in Australia. The Fuji was bred in Japan and the hugely popular and expensive Honeycrisp was created in Minnesota (and became Minnesotas official state fruit in 2006).
Growers know it can take 20 to 30 years to breed and select a new variety viable enough for commercialization. And in the 1990s, the states reliance on the Red Delicious notorious for looking appetizing even when it turns mealy from long storage was leading the industry into a tailspin. It ultimately would cause some growers, packers and other industry players to go out of business.
Horticulturalist Barritt also thought the states popular varieties were obsolete and was already lobbying Washington State University (WSU) and the industry to fund an apple breeding program, which eventually began in 1994. Barritts quest for better commercial apples has resulted in what growers and industry players believe will replace the aging Red Delicious and the grass-roots consumer favorite, the Honeycrisp.
The new apple, a variety named WA 38 by researchers and branded the Cosmic Crisp for marketing purposes, is leading WSU into uncharted territory. The university and its Yakima-based commercialization partner, Proprietary Variety Management (PVM), are trying to refine a new industry economic model being used for premium apple varieties. The model replaces the old push system, in which everyone involved breeder, nursery operator, grower, packer, marketer and retailer pushed varieties such as red delicious that were less prone to bruising, could be stored for a year, had a long shelf life, were easy to grow and werent susceptible to disease. The new pull approach is designed to get the customer involved earlier in the process via consumer research and feedback. Think taste tests and focus groups. Not surprisingly, consumers want varietes that are red, juicy, crunchy, taste good and dont turn brown quickly.
The consumer has the money. We want the money. So, we have to find out what they want in order to get the money. Its as simple as that, argues PVM President Lynnell Brandt. Cosmic Crisp, it turns out, meets the criteria set out by both growers and consumers.

LAUNCHPAD: After two decades in development, Cosmic Crisp is coming to fruition in Washington. Photo by Navid Baraty.

WSU and PVM are launching Cosmic Crisp at a time when more than 20 other varieties with premium aspirations are hitting the market. Even so, grower enthusiasm for Cosmic Crisp is so strong that the apples launch will be the biggest ever. If all goes well, it will be the states and WSUs first commercially successful home-bred apple.
Bred by WSUs Barritt, now retired, and his successor, Professor Kate Evans, the Cosmic Crisp is a dark burgundy-red apple with star-like flecks, or lenticels, that helped give the apple its name. Its a cross between the Enterprise and the Honeycrisp. Earlier this year, 35 growers in Washington the only ones allowed to grow Cosmic Crisp planted an unprecedented number of the new trees, about 630,000 in all.
Demand for the new variety was so great that WSU and PVM held a random, computer-generated lottery in 2014 to award the first trees because there werent enough for every Washington grower who wanted in on the action. An additional 5.5 million trees have been ordered for 2018 by many of the 445 applicants who failed to win the initial lottery; 5.5 million more trees are expected to be planted in 2019.
At 11.6 million trees in a mere three years, the number of Cosmic Crisp trees planted and ordered exceeds the total number of trees currently in production in Michigan, the countrys third-largest apple-producing state, which boasts 11 million trees.
It also represents the fastest ramp-up of any variety and it has some people worried. Nearly 12 million trees are 10 times the typical amount planted at this stage of development, and it is occurring in just three years, not the 20 years it took the last consumer favorite, the Honeycrisp, to reach such volume.
Cosmic Crisp growers are ripping out old, less profitable varieties, often upgrading by planting more intensively with dwarfing rootstock, V or upright trellises, and planting 1,200 to 1,800 trees per acre. Typically, there are 110 to 120 very large trees per acre in older Red or Golden Delicious orchards.

TO MARKET, TO MARKET: Kate Evans, associate scientist at WSU's Tree Fruit Research & Extension Center in Wenatchee, made the final decision on WA 38's being ready for commercialization as Cosmic Crisp. Photo by Navid Baraty.
Growers are upgrading hundreds of acres at a cost of some $35,000 per acre, more than $60,000 if they are buying new land. But because the Cosmic Crisp is bred for dense planting, fewer than 1,500 acres can accommodate 2 million trees. The cost to Washington growers is estimated at $400 million.
So, why are apple growers willing to make this multimillion-dollar bet?
A number of things are coming together at the same time to make it very exciting and intriguing, says PVMs Brandt, who also runs Brandts Fruit Trees in Yakima. [Cosmic Crisp] was bred here for our conditions and it is a wow apple. It really has exceptional eating quality, exceptional storage, exceptional shelf life and it doesnt have much, if any, oxidation.
Because it is slow to brown, the Cosmic Crisp doesnt need to be kept in low-oxygen storage It also is hardier than the Honeycrisp, which can succumb to rot and mildew in the field its not uncommon for half of a Honeycrisp crop to be left in the orchard and to punctures and bruising in the packing house.
Its the right thing for the right time, Brandt waxes on about Cosmic Crisp. The industry is recognizing their flagship Red Delicious is declining in popularity and reputation, and there is need to find a superior flagship. The hope is that this selection can be that apple.
Brandt and other growers wont know how consumers will react to the apple until 2019 or, more likely, 2020. Limited amounts of Cosmic Crisp will officially hit a small number of supermarkets in 2019, when Brandts computer models expect the young trees to bear their first fruit and to produce about 170,000 40-pound boxes.
Typically, a single grower, or maybe a handful, will bet on a new variety, and it takes 10 years or more to get a million trees planted. That volume can produce enough apples to fulfill regional orders; more trees are then needed to fill national demand. Year-round distribution requires an even larger volume of apples and trees. And thats what Washington growers are shooting for.
Its the first time weve seen a variety that has to be an instant hit because theres so much production going in on the front end, says Kaari Stannard, owner and president of New York Apple Sales in Glenmont, New York, and secretary of the U.S. Apple Association.
Theres no gentle curve leading up to it.
Smaller apple-producing states simply cant come up with that volume, she says. Washington state has about 165,000 bearing acres of apples and produces 65 to 70 percent of the nations supply. Thats more than twice the combined total of bearing acres in New York, the second-largest apple-producing state, and Michigan, according to 2016 USDA figures.
Were just waiting to see what kind of standards they set and how they plan to bring it to market, Stannard says. Its going to be a very interesting story.
Growers are betting the Cosmic Crisp will command a premium price, much like the Honeycrisp, which changed the economics of the commercial apple industry. Bred at the University of Minnesota, the Honeycrisp was the first widely accepted, patented, premium-priced apple. It fetches an average of $3.49 a pound in stores today and still brings to growers $50 to $60 per box.
The Honeycrisp didnt start out a commercial success. When it was released in 1991, there was no marketing behind it. Growers just paid a licensing fee to buy the tree. The fee went to the university to fund an apple-breeding program. Consumers, however, loved the apples explosive crunch and juicy sweetness. Through a grass-roots effort that took two decades, Honeycrisp demand soared, growers rushed to plant more trees and retailers charged premium prices. (Washington growers lead the nation in Honeycrisp plantings but many have found the tree hard to grow and the fruit difficult to store, pack and ship, so some are ripping them out to make way for newer varieties.)
About $20 a box is the minimum needed to make a profit with traditional commodity apples, says Desmond ORourke, a former WSU agricultural economics professor and founder and CEO of Belrose Inc., a market analysis firm in Pullman. Commodity varieties typically sell in stores for much less than the premium Honeycrisp; nationally, Red Delicious was selling for an average of $1.13 per pound in early August and growers were getting $15 a box.
Recognizing that consumers would pay premium prices led the industry to pioneer a new economic model, one the Cosmic Crisp is helping to refine. Historically, access to apple varieties was open, meaning growers could plant as many as they wanted and could market them as they saw fit. That system, some say, led to overplanting of Red Delicious and other common varieties, such as Fuji and Gala, which were considered premium varieties in the 1980s. With too many on the market, their prices plummeted.
Today, apple varieties are patented, trademarked intellectual property, which breeders license to select growers, often exclusively. Through clubs or branded programs, the growers pay about a $1-per-tree licensing fee and then a royalty on boxes to cover marketing costs and trademark protection. Some clubs also charge an annual fee. Its a model loosely adopted by WSU and the nations other land-grant colleges with apple-breeding programs the University of Minnesota and Cornell University in New York for their latest apple releases, as well as by private cooperatives and clubs worldwide.
CROWD CONTROL: Like Fuji and Gala, shown here, the WA 38's cultivar, commercialized as Cosmic Crisp, is densely planted, with growers using trellised trainintg systems and smaller trees. Planting more trees per acre produces higher yields than older rootstock. Photo by Navid Baraty.
A club or managed brand can set quality standards, restrict the number of apple trees planted, if desired, and, most important, market the apple brand, a practice that previously was left to an individual growers marketer or sales team. No club or managed brand seems to operate alike, though; everyone is searching for the magic formula.
In the case of Cosmic Crisp, the exclusive group of growers is geographic: Any grower in Washington who is interested can grow the apple. Commercial growers pay a licensing fee of $1 per tree and, when sales top $20 a box, they also pay a fruit royalty of 4.75 percent of a total box sale.
After expenses like PVMs undisclosed management fee, marketing services and other outlays are paid, the remainder is split as set forth in the WSU faculty handbook, says James Moyer, associate dean of research at WSUs College of Agricultural, Human and Natural Resource Sciences, known as CAHNRS. Ten percent goes to the university, 10 percent to the college, in this case CAHNRS, 30 percent to the breeders and 50 percent to WSUs plant-breeding programs.
The $1-per-tree royalty on 12 million trees and the later 4.75 percent royalty on fruit sales mean that if Cosmic Crisp is loved by consumers who are willing to pay Honeycrisp-like premium prices of, say, $60 a box, the royalty could bring in about $17 million in 2020, based on PVMs conservative prediction of 1.8 million boxes.
This outcome would be a distinct improvement over WSUs first attempt with a variety known as WA 2, which failed to gain traction. That apple was problematic because WSU didnt give WA 2 a brand name. Instead, growers simply paid the $1 tree-licensing fee and were encouraged to market WA 2 under whatever name they wanted. There was no marketing plan or royalty based on fruit sales.
After several growers pressed WSU for a name, citing the confusion different names would cause in the marketplace, the university came up with Crimson Delight but didnt trademark it. WSU has now branded and trademarked the apple as Sunrise Magic and is working with PVM to relaunch it, says Albert Tsui, technology transfer coordinator at WSU.
Meanwhile, Cosmic Crisp is debuting at a time when many other varieties are hitting the market or ramping up production, and all have similar premium aspirations. Cornell University has launched the Ruby Frost and SnapDragon with Crunch Time Apple Growers in New York. The University of Minnesota bred and is licensing SweeTango. The Midwestern Apple Improvement Association has high hopes for EverCrisp. The list of new premium varieties also includes Rave, Kiku, Opal, Koru, Aurora, Smitten, Juci, Autumn Glory and 100 or so others that Susan Brown, the top apple breeder at Cornell, has identified.
Many of these new varieties are being licensed, grown and sold exclusively by a single grower or a select group of growers. And nearly all the largest Washington growers have at least one premium apple already in their portfolios.
The marketing of Cosmic Crisp falls to an advisory committee headed up by Kershaw, who was drafted after he gave WSU and PVM an earful about the bungled WA 2 launch.
I thought I offended them so badly that theyd never talk to me again, Kershaw says. But two days later, they called me and said, We liked all your ideas. Were going with them and want you to be chairman of the marketing committee.
I thought the Cosmic Crisp would ramp up moderately, he adds. I didnt expect everyone to decide to plant 10 million trees. Weve gone from a variety you couldnt launch to one thats almost launching so fast that its scary.
Kathryn Grandy, who leads marketing for PVM, says the promotional budget for Cosmic Crisp and its official funding source have yet to be determined. No doubt the budget will need to be in the multiple millions. At the height of its national promotion of fresh apples in 2000, the Washington Apple Commission spent $8 million to market Washington-grown apples. Today, the organization only handles international sales.
In an unprecedented display of cooperation, 13 marketing groups in Washington are setting aside their rivalry to work together to market Cosmic Crisp and advise PVM. They have already agreed to leave their own packing-house names out of any advertising and plan to use Washington Apple as secondary branding.
Of course, some are skeptical that individual competitors can work together. The Cosmic Crisp committee members already have their own varieties and built-in incentives to push their own premium varieties with retailers, says ORourke. Its going to be a weakness of the Cosmic Crisp. Stemilt [Growers] has SweeTango, CMI and Ambrosia, and Oppenheimer [Group] has a huge incentive to promote Jazz and Envy. And those are the folks on the Cosmic Crisp marketing committee.
Kershaw counters: There are just five marketing teams that do 80 percent or more of the states apple marketing, so its easy to talk strategy versus 30 years ago, when the Washington Apple Commission was promoting and there were 60 or 70 marketers. Weve always been competitors, but were currently working together on this project, and its going pretty well so far.
The industry is still a few years away from knowing if America will warm to this large, juicy apple with a remarkably firm and crisp texture. But Kershaw, whose family has been growing apples for five generations, sees both economic promise and a measure of bragging rights at the core of Cosmic Crisps gestation.
If were successful and the royalty dollars come back to the industry and the research department, he muses, maybe my grandkids will be able to say they get all the best varieties from Washington research and breeding programs.
This article appears in print as the cover story for the November 2017 issue. Click here to sign up for a free subscription.