LeoStella Opens Satellite-Manufacturing Plant in Tukwila
New facility is slated to produce 20 small satellites for Seattle-based BlackSkys Earth-observation platform
By Bill Conroy February 18, 2019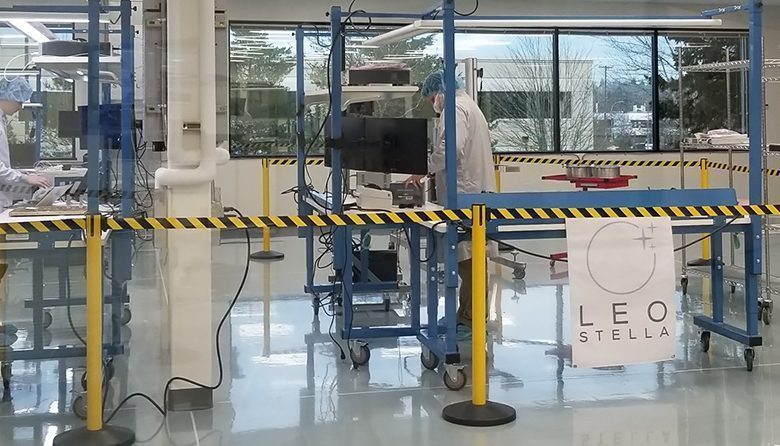 LeoStella, a locally based small-satellite design and manufacturing company, has unveiled its new manufacturing facility in Tukwila, Washington, where it will produce its first satellite by the end of March for BlackSky, a subsidiary of Seattle-based Spaceflight Industries.
LeoStella has a contract to produce 20 satellites at its 20,000-square-foot manufacturing facility for BlackSky, which plans to build and launch a 60-satellite Earth-observation network. The BlackSky satellite constellation will fly over most of Earths major cities and economic zones dozens of times daily capturing timely data that organizations can tap to make informed decisions. BlackSky plans to launch the first 20 satellites in its geospatial-intelligence constellation by 2020.
Small-satellite constellations are unlocking a wide range of new information products for broad market opportunities, says Brian OToole, president of Spaceflight Industries and CEO of BlackSky. LeoStella is a critical element in the BlackSky constellation strategy, delivering robust satellite development and production that enables resilient, high-performing space capability.
LeoStellas new production facility in Tukwila, which employs some 40 people, will be able to manufacture up to 30 satellites a year, including Earth-observation and telecommunication satellites. The company is a joint venture between Thales Alenia Space (Europes largest satellite maker) and Spaceflight Industries, which has raised more than $200 million in capital to date. Spaceflight Industries also operates a subsidiary called Spaceflight that offers rideshare launch and mission-management services for satellites.
LeoStella is fully in line with Thales Alenia Spaces strategy to match the new needs for new space, said Viktoria Otero Del Val, executive vice president of strategy at Thales Alenia Space. It will complement and leverage its undisputed experience of mass production for constellation [satellites], making Thales Alenia Space the worldwide leader for constellations.
Leo Stella and Spaceflight Industries are part of an emerging space-business sector in Washington state that has an estimated $1.8 billion economic impact and supports some 6,200 jobs, according to a recent study by the Puget Sound Regional Council.