2016 Community Impact Awards: Lifetime Achievement Award
Congratulations, Harriet Bullitt!
By Karen West October 24, 2016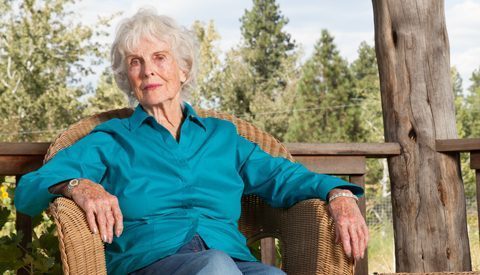 Winner:
Harriet Bullitt
Washington state has three icons: Mount Rainier, the Columbia River and Harriet Bullitt. All are larger than life. That declaration by Governor Jay Inslee at a 2013 dedication of Bullitts newly created Icicle Creek Center for the Arts in Leavenworth is a perfect description of the 92-year-old philanthropist, businesswoman and community leader.
I dont consider myself a philanthropist, Bullitt says from her spiritual home in Leavenworth. I dont look at it as giving; I see it as sharing. … Its important to me to be sharing what I have.
A longtime supporter of the arts and environmental conservation in the Pacific Northwest, Bullitt has created a legacy of achievements up and down the state of Washington. In 1989, she and her sister, the late Priscilla Patsy Bullitt Collins, inherited ownership of King Broadcasting Company, which their mother Dorothy Bullitt had founded in the 1940s. Harriet founded Pacific Search magazine in 1966; it later became Pacific Northwest magazine and was folded into Seattle magazine in 1994. Her family foundations Bullitt Center in Seattle is designed to be the greenest building in the world. The Snowy Owl Theater, a performance center near Leavenworth, is the centerpiece of the Sleeping Lady Mountain Resort, a retreat created by Bullitt in 1995 from an old Catholic Youth Organization summer camp.
Bullitt also founded the Icicle Fund, a charitable foundation supporting the arts and environmental protection in the upper Wenatchee Valley. And she has served on many boards, including those of the Pacific Science Center, The Nature Conservancy, Reed College and the National Audubon Society. She is vice chair of the Bullitt Foundation board of trustees.
Bullitt affects the communities in which she lives by her very presence, says Werner Janssen, who has known Bullitt for 23 years and is writing a book about her. Her reputation and positive actions precede her, so people are quietly anticipating new life when Harriet appears.
Janssen describes her as a humble leader who has strong convictions for what she feels is needed to allow nature and society to grow in a positive way through the use of friends and community.
Judges for the 2016 Community Impact Awards:
Anthony DiBlasi, Washington state and Seattle market president, Bank of America
Nicole Gupte, senior communications manager, Philanthropy Northwest
Jan Hendrickson, regional managing director, Ascent Private Management, U.S. Bank
Joe Lawless, executive director, Center for Leadership & Social Responsibility, University of Washington Tacoma
Michael Luni Libes, founder and managing director, Fledge Seattle
Joseph Sprague, SVP, communications and external relations, Alaska Airlines
Brian Unmacht, CEO, Bartell Drugs
Affshin Valji, partner, PwC