Seattle's Tourism Market Is Propelled by a Strong Cruise-Ship Sector
The economic impact of the cruise-ship business approaches $1B
By Bill Conroy September 1, 2019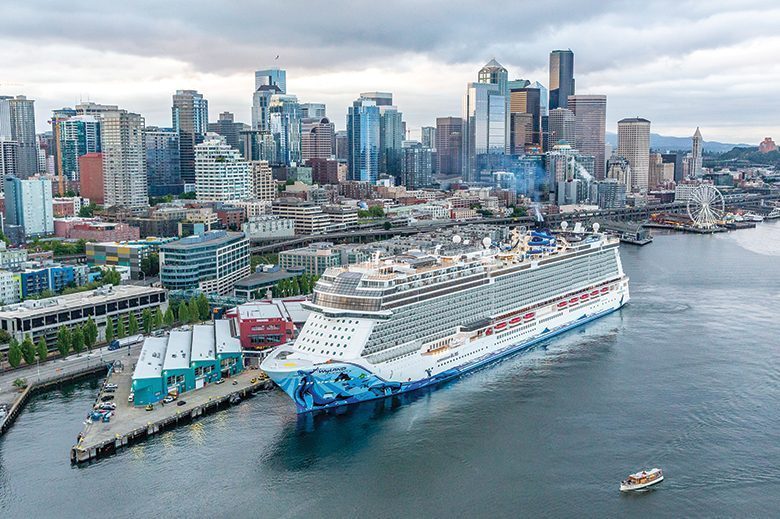 The economic impact of the cruise-ship business approaches $1B
This article appears in the September 2019 issue. Click here for a free subscription.
The contours of Seattle's $7.8 billion tourism industry are often invisible to many people who live and work in the city. The industry and the people it serves often tend to blend into the background of the ongoing hustle and bustle of a vibrant city.
"They certainly see crowds of people, or lots of convention delegates wearing name tags," says Tom Norwalk, president and chief executive officer of Visit Seattle, a nonprofit that acts as King County's marketing agency.
After a while, though, that can become a mundane sight, or maybe even viewed as an inconvenience that some city residents seek to avoid.
The cruise-ship niche, however, stands out in its visibility and ability to define the tourism industry's horizons, Norwalk says. "To me, probably the most visible and regal sight to see is two or three ships in our harbor, which just symbolizes everything that's so great about the power of travel. It's about people coming to the city, and they're spending money."
The Port of Seattle this year will host some 10 cruise lines and 18 ships that are expected to deliver a total of 1.2 million passengers to Seattle's downtown — a visitor figure equal to about half the population of King County sailing into the city each cruise season. Eleven of those ships offer cruise itineraries featuring Alaska as a destination, which is the hot cruise-ship attraction from Seattle.
The city's tourism engine, as powerful as it is already, is about to get supercharged by recent developments in the cruise-ship sector. Among them is the addition of a $200 million, single-berth cruise-ship docking facility at Terminal 46, located near Pioneer Square, which is slated for completion in 2022. That new terminal will complement the city's two existing cruise-ship terminals — Terminal 91 near the Interbay neighborhood, featuring two ship berths; and Terminal 66 near Belltown, featuring one berth.
"There's just so much demand, and so when we looked at our facilities in the Seattle harbor, Terminal 46 was the next best opportunity," says Stephanie Bowman, president of the Port of Seattle Commission. "I'm particularly excited about it because of the terminal's proximity to downtown light-rail service. In terms of opening up a new area of downtown, certainly the businesses in Pioneer Square are very excited about this."
Also expected to fuel further growth of Seattle's cruise-ship tourist market is the expanded airline service between Seattle and Asia, which should help to swell the ranks of international cruise-ship passengers, according to some area tourism-industry leaders.
"For the cruise business in particular, as the China market continues to grow and build a middle class, they have more discretionary income and ability to spend," Bowman says. "So, as we add more international flights, that helps boost our cruise business."
Jon Scholes, president and chief executive officer of the Downtown Seattle Association, echoes Bowman's bullishness on the potential of the international market. "In general, inbound travel out of China has been pretty significant in the last couple of years," he says. "We've seen quite a bit of growth there."
This year, three carriers added nonstop service between Seattle and Asian destinations: Cathay Pacific, serving Hong Kong; Japan Airlines serving Tokyo; and Singapore Airlines, serving Singapore. They join six other Asian airlines already connecting Seattle to Asian destinations — including Hainan and Xiamen airlines serving China; Korean Air and Asiana serving Korea; the carrier Eva, which serves Taiwan; and All Nippon Airways serving Japan. U.S.-based Delta Airlines also expanded its existing service to Asia this year.
In addition, Seattle's bold $712 million central-waterfront makeover, slated for completion by 2023, is expected to make the Seattle area an even more attractive pre- and post-cruise destination for spendy travelers, local tourism officials say.
"The new central waterfront will be one of the top public spaces in the country and will rival spaces around the world," Scholes says. "I think it's going to be a huge draw for all sorts of visitors, including those looking to take a cruise up north [to Alaska], who can spend a few days in Seattle exploring and enjoying that space."
A total of seven cruise lines homeport in Seattle this year, meaning they offer cruises that begin and end in the city. In addition, three of the ships sailing from Seattle are among the largest passenger vessels on the seas — including the Norwegian Joy and the Norwegian Bliss, both of which can carry some 4,000 passengers; and the Royal Caribbean Ovation of the Seas, with a passenger capacity of nearly 4,200.
All of this cruise-ship firepower has helped to make Seattle the busiest cruise port on the West Coast, growing from some 120,000 passengers in 2000, when the industry was in its boot-up phase in the city, to more than 1 million passenger visits annually every year since 2017 — with a projected passenger count for 2019 of 1.2 million.
Cruise-driven tourist traffic provides a real economic boost to the city. The economic impact of cruise ships to the regional economy in 2019 is projected to total nearly $894 million, which includes supporting some 5,500 jobs during the cruise-ship season (between May and October), $260.1 million in labor income, and $14.5 million in annual state and local tax revenue. The Port of Seattle-sponsored study estimates that each cruise vessel call, or visit, generates some $4.2 million in economic activity in the region.
Passengers not from Washington who stay overnight before or after a cruise spend an average of two days in the city, according to a cruise-passenger survey sponsored by the Port of Seattle. Eighty-nine percent of those responding to the survey said they lived out of state.
Those nonresident passengers spend an average of $850 per party prior to a cruise and another $697 post-cruise, for a total of $1,547, based on the passenger survey data. Passenger spending includes outlays for lodging, food and beverages, entertainment, transportation, and gifts and souvenirs, the economic-impact study states.
Michael Rogers is among the local entrepreneurs benefiting from the rising tide in cruise-driven tourism business in Seattle. He owns and operates several local tourism-focused companies, including Seattle Express, which provides transportation services to cruise-ship passengers. Rogers says in 2018 Seattle Express, "served about 35,000 passengers, which was a 15% increase over the previous year, so we're definitely seeing growth in the market."
All of this cruise-powered tourism traffic, and the marketing that supports it, also has another benefit that not only helps to further bolster the industry's growth prospects in Seattle but also creates a positive image for the city and its business community on a global scale. Norwalk says when the cruise-ship companies and travel agents are "marketing and selling sailing out of Seattle, it really helps our brand and the city's recognition around the globe."
"You also have a lot of Washington state products, like wines, produce and farm products from around our region that find their way onboard all these different ships," he adds. "So, from restaurants, food and beverages, the arts and culture, hotels and attractions, the impact of the cruise industry is really spread within the entire fabric of our tourism industry."
Cruise-ship operational expenditures on items such as fuel, food and beverage procurement, as well as onboard accommodation purchases and maintenance, are projected at nearly $183 million in 2019, according to the Port of Seattle economic-impact study.
Another perk of having a strong cruise-ship business as one of the legs of Seattle's tourism industry is its resilience in the face of even a severe economic downturn, like the Great Recession (ending officially in June 2009), which reverberated through the U.S. economy for years and laid waste to tourism-related business around the nation.
In the case of the cruise-ship business in Seattle, post-recession passenger traffic remained robust, though choppy, through 2013 and didn't show a significant decline until 2014 — when the annual passenger count dipped to 824,000, off a pre-recession high of 886,000. By the next year, however, the passenger count was back up, to nearly 900,000 and on its way to the 1 million-plus passenger counts we've seen in recent years.
"I think the credit there really goes to the savvy of the cruise industry, which has been through these economic cycles many times and understands how to weather a recession," Rogers says. "They just did an amazing job responding to the last recession and making, you know, offers that people couldn't refuse, just to get people on the ships."
Bowman adds that another strong recession repellent is the popularity of Alaska as a cruise destination and Seattle's unique role in serving that market. "There's only one Alaska," she says, "and so we're a little recession-proof because people will always want to go to Alaska as long as the glaciers and wildlife are there, and the natural environment is protected."