Executive Q+A: Seattle Mayor Ed Murray
He wants the city's strong-mayor system to have a more robust organizational structure.
By Leslie Helm January 4, 2017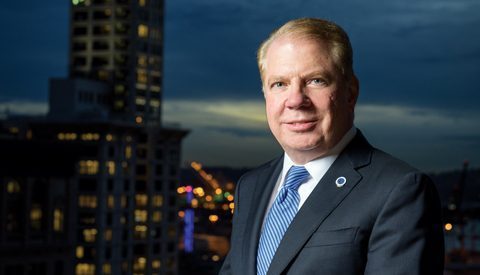 Under Ed Murray, Seattle has become recognized nationally for promoting progressive policies like the $15 minimum wage, but he also sees the need for more centralization in the mayors office to implement better controls over the citys large bureaucracy.
EARLY YEARS: My father was a logger. Two of my uncles died in logging accidents. Later, Dad worked for Bethlehem Steel. He went to business school and ended up on the business side of the Port Blakely Companies and finally worked at the state Department of Natural Resources. As a large Catholic family, we sometimes struggled financially. I had paper routes, washed dishes and even picked blueberries a job I hated for clothes and to pay for dental work. In college, I worked full time so I could get insurance.
POLITICS: Ive wanted to be in politics since I was 5, when John F. Kennedy was running for president. There was so much excitement. We stayed up later [on election night] and in the morning, we ran into my parents room and jumped on the bed to find out who was elected. There is this natural interest in politics among the Irish in America. I have cousins whove been elected mayor in the New Jersey and New York areas.
DRIVE: When you grow up where food doesnt come easy, its almost a double fear that you will end up destitute. When you have opportunities like Ive had in life, you absolutely want to spend every moment making it work. Im driven and I look for people who are driven. At times, Ive had to dial back the way I drive others.
MAYORS OFFICE: This city has a strong-mayor system. Unlike in Boston or New York, I dont have to [get city council approval] to raise the minimum wage or do a [child care] program. But we have a fairly small mayors office compared to other large cities. Im responsible for 14,000 city employees in 28 different departments, including Seattle City Light and Seattle Public Utilities, but I have little ability to do independent oversight. We dont have the controls that the governors office has with the Office of Financial Management. For the day-to-day administration, we need another level of centralization so, for example, we can build projects on time and on budget. Were looking at ways to use statistics to measure performance. How do we monitor construction in real time to catch problems early?
BIG CITY: In my first two years in office, Seattle went from the 20th to the 18th largest city [in the United States]. That [growth] creates challenges. Ive brought in some of the most innovative people in the country to work in the mayors office, to be directors of departments to take us to that next level. I focused on folks whove come from big cities because we dont have a lot of depth when it comes to big cities.
PROUDEST ACHIEVEMENT: The fact that we have been able to pass five ballot measures in two years to really catch this city up on transportation, parks and bus service. Maybe our pre-K [early learning] program will be, in the end, the most significant. If we get this right, we will radically change the outcome for those young people.
BUSINESS REGULATION: I worry about the impacts on the smallest businesses in the city. In a city that is rapidly changing, their situation is the most precarious. We need to do a better job on how we engage and assist them. Thats why I brought in Brian Surratt as director of the Office of Economic Development. But many of the things we have done, we have done with with business. Business was there on pre-K and transportation. If we dont have a transit system that works, business doesnt work. Even on minimum wage, business is not happy, but we created a model of phasing it in that has become a model around the country. With the housing levy, developers for the first time agreed with low-income-housing advocates to accept a requirement to build or pay for affordable housing in exchange for increased density in our urban villages. This has been a collaborative process. I do worry at times that some on the council dont understand that most businesses operate on the margin. I do worry that there could be a piling-on effect without understanding the full implications of that. But business needs to do a better job of articulating what they want and not simply what they are against.
BUDGET: We have to be really sensitive to levy fatigue because we have a really regressive tax system that leaves us few choices other than property taxes. Having said that, the housing levy did pass by 70 percent. That was the fifth levy I had sent out in two years. I do need to add that Seattles tax burden is less than some of our suburban cities. Still, there are real risks here. On every budget speech I give, I remind the council that a lot of increased revenue we have received is off of construction that will ultimately slow down. We are keeping a high reserve to prepare for worse times.
HOMELESSNESS: The first year I was in office was the last year of the 10-year plan to end homelessness. The city identified and built every unit it said it needed to end homelessness and yet the problem is worse. We need to be innovative about finding new ways to deal with homelessness. But the myth that Seattle can solve this problem hurts the homeless. Seattleites are pointing at each other for a problem that only the nation and state can help us solve. Weve stepped up big time, but there is this issue of income inequality, and the massive heroin epidemic in this country while the government is retreating from its responsibilities. We are number 47 in what we spend on mental illness in this state. What disappoints me is the folks in Seattle dont realize that towns up and down the West Coast all have homeless crises. Thats an area I have to own a failure not being able to create a dialogue to create a bigger movement.
TAKE 5: GET TO KNOW ED MURRAY
HERO: When I was 13 or 14 and Wes Uhlman was elected mayor at 34, I read an article in the Seattle P-I that showed a picture of him on the balcony of the old City Hall. Thats when I wanted to be mayor.
FAVORITE VACATION: Visiting the Washington coast with his husband, Michael Shiosaki.
A LIFE IN POLITICS: Murray once confided to reporter Joel Connelly: In 18 years, I have never been on a vacation where we havent been interrupted by some legislative crisis or some controversy in the media.
TRUTH TELLER. The biggest myth is that we have a large tax burden. We are the 18th-largest city [in the country], but in terms of tax burden, we are something like the 50th.
GO, PILOTS. Murray was born in Aberdeen in 1955 and grew up in West Seattle and Lacey. He has a sociology degree from the University of Portland.
EXECUTIVE Q+A RESPONSES HAVE BEEN EDITED AND CONDENSED.