Asian Investment in U.S. Trophy Assets Quadrupled in 2016
Office and hospitality properties especially prized.
By Ioana Neamt April 12, 2017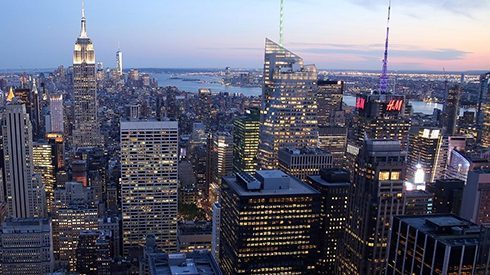 Theres been much talk lately of record Asian capital being pumped into the U.S. commercial real estate market, especially in the past year. Foreign investors stole the spotlight in 2016, injecting billions in commercial assets, with a clear preference for the office and hospitality sectors. Anbang Insurance Groups $5.5 billion buyout of Strategic Hotels & Resorts from Blackstone was all over the news in the past year, proving to be the largest commercial deal of 2016 and the second-largest Chinese investment in U.S. real estate.
An Asia Society Special Report released last year identified the most attractive U.S. markets for Chinese investors. We thought wed track down Asian investment activity in each of these markets, focusing exclusively on major office deals. We enlisted the help of Yardi Matrix data to extract the top 20 largest office transactions from 2012 to 2016, in each of the 7 key markets identified by the report: New York City, Los Angeles, San Francisco, Chicago, Seattle, Boston and Miami. Then we checked which of these trophy assets were acquired by Asian-based investors.
After the first round of research, we excluded Boston and Miami from our analysis, as our data showed that Asian-led trophy office acquisitions in these markets were negligible. Only one Boston sale was closed by Asian buyers in the past five years, and no major Asian-led office investments were recorded in Miami between 2012 and 2016. The results shouldnt surprise youthe most attractive office market for offshore buyers lies on the East Coast, and that market is the New York City office market. Turns out, Asian investors arent as keen on buying office properties as they are on developing new ones, the exception being the Big Apple, which promises stable, long-term returns.