Seattle-based Pure Watercraft Ushers in a Quiet Revolution in Boating
Seattles Pure Watercraft is about to make some noise with its electric outboard motor.
By Cheryl Reid-Simons January 16, 2018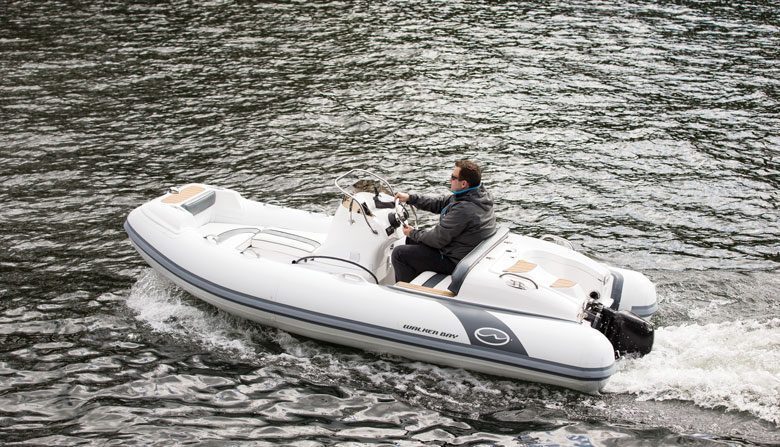 This article appears in print in the January 2018 issue. Click here for a free subscription.
As the automobile industry gears up for a tipping point in the seemingly inevitable changeover to electric vehicles, Seattle-based Pure Watercraft is quietly and we do mean quietly bringing the revolution to the water with a 40-horsepower electric outboard motor it will start delivering early this year.
In many ways, an electric boat motor makes even more sense than an electric car motor. Gas-fueled boat motors are 10 times more polluting per gallon than gas-fueled car engines, says Andy Rebele, founder and CEO of Pure Watercraft. And your highest pollution is at idle speed, he notes. Thats what boats do all day.
Compared to their internal combustion counterparts, which are notoriously difficult to keep in top condition, electric motors require almost no maintenance. Forget lugging gas to the dock or hauling your motor in for an expensive oil change or tune-up. For casual boaters who dont want engine maintenance to become part of their lifestyle, electric motors are enormously attractive.
Add in the chance to be on the water at full speed and carry on a conversation at normal volumes and its a little surprising electric boat motors dont already have a major share of the market.
Its a superior experience, Rebele asserts.
Inspired by both his work coaching a high school crew team and his enthusiasm for Teslas electric automobiles, Rebele launched Pure Watercraft in 2011. Initial delivery of its all-electric outboard motor and battery is scheduled to begin in the first quarter of this year. Rebele knows its not the first or the only electric boat motor on the market. But he insists its the best.
It crushes anything else that tries to do speed, Rebele says as he zooms across Lake Union, clearly exceeding the lakes 7-knot speed limit one chilly fall morning. With a silent engine and a hull that produces virtually no wake, nobody seems to notice.
RUN SILENT: The battery-powered Pure Outboard weighs about 90 pounds and offers a variety of propeller choices depending on hull configuration.
Last October, Rebele entered his Pure Outboard in the 24-mile Wye Island Challenge electric boat marathon on Marylands Eastern Shore. Other boats used special hulls designed for speed, but Rebele put his motor on a twin-hull coaching launch essentially an open platform with a seat. Designed primarily for generating almost no wake, Rebeles boat still blew the competition out of the water: The previous best time for the Wye Island Challenge was 95 minutes; Rebele finished in 70, for an average speed of 20.6 mph. He covered the course so quickly that the finish-line boat wasnt prepared for his arrival.
Everyone can say they go fast, Rebele exults, but no matter what hull they use, they are 25 minutes slower.
Probably the best-known electric boats in Seattle are the party boats offered for rent by The Electric Boat Company. Those rely on what are essentially golf-cart motors, Rebele says, and they drive like golf carts. Theyre great for a leisurely cruise, but with a top speed well under 10 mph, theyre no threat to the traditional marine engine market. Add to that the tiny trolling motors used for fishing and youve covered the bulk of the electric boating options.
What makes the Pure Outboard special is that the entire system was designed and built to work together. Other electric systems, Rebele says, cobble together elements from different manufacturers. Rebele quickly realized that approach wouldnt give him the game-changing motor he envisioned. Pure Watercraft designed and built everything from the propeller to the cable that connects it to the battery and steering controls to the battery pack.
Thats part of whats taken more than six years to reach market, he says. We had nothing until we had everything.
The pure outboard is the first to really take on the 2.5 million 9.9- to 50-horsepower outboard motors that constitute the biggest part of the recreational boating market in the United States. Its not going to replace the motor on a water-skiing boat, but for almost any other application, it has the necessary power.
Rebeles original inspiration was to design a quiet, low-wake boat to make life easier for rowing coaches. The response has been enthusiastic, with 90 percent of coaches who have tried a demonstration version saying theyre ready to make the switch, according to Rebele.
In a promotional video for Pure Watercraft, legendary coach Bob Ernst, who won six national rowing titles at the University of Washington, says, The noise consideration on a coaching launch is really important. I dont even like people to talk when Im working with the team because everything for me is about how much I can focus on helping them. Unfortunately, outboard motor noise is not white or gray noise. Its obnoxious noise.
Rebele adds: When most people think about the Pure Outboard, they assume it will be quiet. They dont realize how quiet it is. They anticipate it will be low maintenance. They dont realize it will be zero maintenance. They anticipate that it will be somewhat of a compromise on performance. They dont realize that it actually outperforms the gas motors theyve used before.
Rowing isnt the only market Pure Watercraft is looking to conquer. The Pure Watercraft outboard could easily replace the gas motors on yacht tenders. The companies that service marine sanitation systems are eyeing the electric outboard for its low-maintenance qualities. And the biggest market of all may be recreational fishing.
Turns out fish dont like noise, Rebele says, noting that his team won a bass fishing tournament in San Diego last spring despite the seemingly undersized motor.
Rebele remains Pure Watercrafts largest investor. On the cusp of selling its first products, the company has raised about $4.2 million. It plans to manufacture its motors, chargers and battery packs in Seattle, on the shores of Lake Union. The company currently employs 14, but when production gears up to produce a projected 1,000 units by the end of 2018, Rebele says it will need an additional 50 people.
The initial price for a Pure Watercraft motor with two lithium-ion batteries is expected to be $18,000 considerably more expensive than a comparable gas-powered outboard motor. But when factoring in fuel and maintenance costs for a gas-powered motor, Rebele says the Pure Outboard, which requires virtually no engine maintenance for 10-plus years, will save buyers the difference in just a few years.
Owners will also need to buy a charger, either 120V or 240V, which plugs into a regular outlet. Since both chargers are designed to charge more than one boat at a time, Pure Watercraft is targeting its initial sales at owners of small fleets, so the cost of a charger $1,500 for the 120V version will be negligible on a per-boat basis. Eventually, Rebele sees a future when public docks and marinas will install chargers as amenities, just as parking garages today often provide chargers for electric cars.
Except for battery cells, most parts in the Pure Outboard come from the United States to save time and costs often associated with importing components. With highly skilled assemblers and high-quality components, Rebele says keeping production stateside will be cost-effective, despite higher labor costs.
We started Pure Watercraft, Rebele says, [not] by saying to ourselves how can we can improve outboard motors, but how can we make a different way to push a boat? And it turns out that the best way is electric.
This article appears in print in the January 2018 issue. Click here for a free subscription.