The Rise of Amazon's Private Label Brands
Brands like Echo and Kindle are well-known forces, but the e-commerce giant's private label brands are exploding in popularity. Do they have an unfair advantage on Amazon.com?
By Nika Kabiri and Leslie Helm January 4, 2018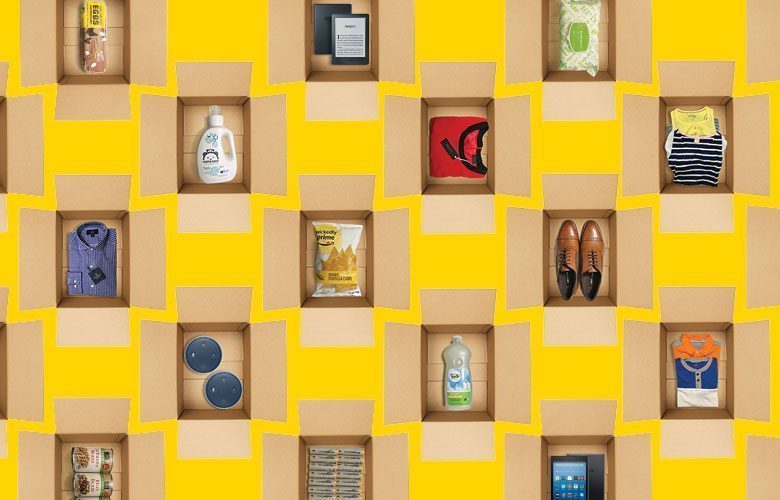 BRAND BOOM. Amazons private-label brands have expanded from the marquee Kindle to kids clothes, baby wipes and batteries. Here, a selection of the companys more than 30 brands. Photo by Lori Kelley.
This article appears in print as part of the cover story of the January 2018 issue. Click here for a free subscription.
This is one part of the January 2018 cover story. Read the full cover story here.
For decades, giant brands have battled for dominance in large segments of the nations retail sector, whether its Duracell and Energizer in batteries or Pampers and Huggies in baby products.
Now theres another strong brand popping up across the retail landscape: Amazon. Ninety percent of the batteries sold on Amazon.com are the companys own private brand, AmazonBasics, according to 1010data, a New York-based market research firm. With sales doubling each year, says the research firm, AmazonBasics now accounts for almost one-third of all online battery sales. And when it comes to baby wipes, the Amazon Elements brand has seen sales almost triple, putting it in a strong third place.
Thanks to its success in getting third-party merchants to use its fulfillment services, Amazon handles about 42 percent of all online sales in the United States, giving many smaller, emerging brands a more effective platform from which to market themselves (see below). And it is leveraging that market power to churn out its own private-label products at an accelerated pace.
A quick search on Amazon.com shows AmazonBasics, launched in 2009 with a handful of products like batteries and audio cables, now sells more than 1,500 items everything from camera equipment and headphones to document shredders and bedding.
Some of Amazons private-label brands are well known. Kindle dominates the e-book market. The voice-controlled Echo, by some accounts, has won Amazon a 76 percent share of the smart speaker market. But there are plenty of other Amazon brands few have ever heard of yet such as Happy Belly snacks, Mama Bear products for babies and moms, and North Eleven scarves and sweaters.
In the past two years alone, Amazon has added some 22 new private brands to its portfolio, for a total of more than 30. Its revenue from those products climbed 47 percent last year, to about $3.63 billion, writes Youssef Squali, global head of internet and media equity research at Atlanta-based SunTrust Robinson Humphrey, in a 20-page report he titled Building the Next Unfair Competitive Advantage Private Label.
When you add the private brands like 365 Everyday Value that came with Amazons acquisition of Whole Foods Market last year, the report estimates Amazons private brand sales in 2017 amounted to roughly $4.3 billion.
Squali is bullish on Amazon's push into private labels, predicting sales will grow by 36 percent a year to reach $20 billion by 2022. Last fall, Jet.com, a rival ecommerce site acquired by Walmart, responded with its own higher-end private brand of grocery and household items called Uniquely J.
Private brands have long been a potent weapon in the hands of retailers. Grocery chains, drugstores and department stores were among the first to pioneer their use, with lower-priced private-label products often accounting for 20 to 40 percent of sales. Costcos Kirkland brand, probably one of retailings most recognizable private labels, accounts for about 25 percent of its sales.
But the private brand is a particularly effective piece of Amazons arsenal. Low prices of the private brands certainly help boost sales. In mid-November, a 24-pack of Energizer AA batteries cost $13.99, or 58 cents a battery, for example, while a 20-pack of AmazonBasics AA batteries sold for $8.54, about 43 cents per battery a 25 percent saving.
As well, Amazon brings to the table two other strengths few retailers can equal.
One is an exceptionally strong relationship with its customers. The company regularly gets high marks for customer service, including easy search, quick and reliable delivery, reasonable prices and easy returns. They are a trusted retailer with a significant channel-captive audience, says Lindsay Pedersen, who runs Seattle-based Ironclad Brand Strategy, a consultancy that works with leaders to identify their optimal brand positioning. Amazon is building on that trust. In the fragmented world of vitamins and supplements, for example, where consumers often worry about what they are buying, Amazon is selling products under the Amazon Elements premium brand label with a focus on providing more transparency about contents. Each item includes a code customers can scan with the Amazon mobile app to learn more about quality reports, product origin and ingredients.
Second is the massive amount of data Amazon collects on its customers buying habits, information that can be used to inform decisions on what sells best, what features customers like and how to market to them. Many believe Amazon tracks the performance of its marketplace sellers to choose what markets it wants to enter via privately branded products.
Amazons critics say the companys ability to use data it collects from consumers and merchants to promote its own private brands creates conflicts of interest. Although Amazon has only a relatively small share of any given market, its massive scale and the control it has over its platform allow it to tip the scales in favor of its own branded products. Capital Forum, a Washington, D.C.-based news service, released a report in December 2016 in which it analyzed hundreds of Amazon and non-Amazon products sold on Amazon.com. The report found that Amazon appeared to favor its own private-label clothing brands in the Customers Who Bought This Item Also Bought feature.
Amazon has another massive competitive advantage when selling its private-label products: a very long-term strategy. An Amazon spokesperson argues that the primary reason for its private-brand strategy is an effort to offer a broader selection to customers. But Squali argues that adding lower-priced private brands attracts customers in another way: They drive down prices of rival brands, making Amazon a more attractive place to shop versus low-priced competitors such as Walmart.
Some analysts believe the private-label push could be particularly effective in areas like apparel, where Amazon already generates about $30 billion in revenue. In the past two years, Amazon has launched 15 apparel brands, including Arabella intimates and The Fix shoes and handbags for women; Buttoned Down shirts and Franklin & Freeman shoes for men; and Scout + Ro clothing for kids. Amazon is trying out different things to see how customers respond, says an Amazon spokesperson.
A Fitch Ratings analyst recently wrote this about Amazon: Fitch anticipates a significant market share gain in apparel would be accomplished through the successful introduction of private label clothing brands. The credit rating firm suggests that if Amazons share of the apparel market climbed to 25 percent, up from 7 percent today, it would have a devastating impact on the nations retailers, shopping malls and the brands that sustain them.
Another challenging category Amazon recently entered is furniture, with its Rivet brand focused on midcentury modern furnishings for smaller spaces and a Stone & Beam country-modern line focused on families. To help overcome the reluctance to buy something they cant touch or try out, Amazon will send out swatches of materials and allow free returns for up to 30 days.
Its too early to say how successful Amazon has been in selling private-label clothes and furniture. But Amazons private-brand push has certainly benefited from the recent erosion in the power of traditional brands. Brands draw power from their ability to reassure customers who are uncertain about which product to choose.
A brand is an entity with skin in the game, says Pedersen, the brand consultant. A well-known brand stakes its reputation and its advertising dollars on doing a good job, and consumers know this.
Amazons extensive cache of customer reviews on virtually every product sold on its website has contributed to the erosion in brand power by giving customers an independent source of information on which to base purchase decisions. A search for down jacket on Amazon.com serves up items from lesser-known brands like ZSHOW and WantDo right alongside brands like Eddie Bauer, each with enough reviews to alleviate a consumers doubts about the lesser-known products.
Reviews also help Amazon connect new brands with consumers in much the same way strong brands do through advertising. One reviewer, for example writes of a hair iron on the Amazon site: Being a mom of 2, pregnant with #3, and in the middle of moving is hard to have time to get the hair done, but with this I can have my hair done in 30 min rather than 1hr+. Readers can see themselves in that situation and feel connected to the product.
Through its customer reviews and private brands, Amazon pressures retailers to respond to their consumers with higher quality, improved service and better prices. But as Amazon continues to gain market power, and more retailers feel compelled to make their products available on Amazon, retailers are bound to feel anxious about whether the web giant is using its access to huge troves of customer and merchant data to tip the scales in favor of its own increasingly ubiquitous private brands.
Nika Kabiri is VP at Radius Global Market Research, where she helps businesses and brands identify growth opportunities.
This is one part of the January 2018 cover story. Read the full cover story here.
This article appears in print as part of the cover story of the January 2018 issue. Click here for a free subscription.