Phytelligence Gives Growers Healthier, High-Quality Plants in Half the Time
Why haste is not a bad thing at this Seattle agriculture startup.
By M. Sharon Baker January 8, 2018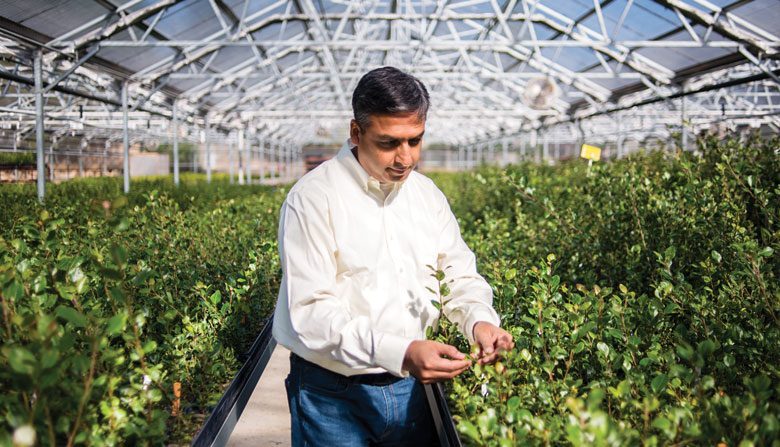 PLANT VISIT: Phytelligence had its beginnings in the lab of WSU Associate Professor Amit Dhingra, seen here at the companys greenhouse in Burien. Photo by Navid Baraty.
This article appears in print in the January 2018 issue. Click here for a free subscription.
Its not easy being an apple grower. It not only takes breeders 20 or so years to find a new variety that consumers love, but it also takes seven or eight years for nurseries to make enough trees for growers to plant, and a few more years for those trees to bear fruit and to grow enough for commercial distribution.
Thats an awfully long timeline, which has frustrated growers for years. Phytelligence, a Seattle startup, has cut the initial growing and fruiting time in half, a game changer not only for apple growers but also growers of other fruit trees as well as those who cultivate nuts and berries.
Spun from the lab of Amit Dhingra, professor of horticultural genomics at Washington State University, in 2012, Phytelligence grows plants through micropropagation, in which tissue culture is taken from a desired rootstock or tree variety and grown in petri dishes.
Tissue culture micropropagation, a practice thats been around for decades, initially failed to interest Ken Hunt. In my brain, I thought, Well, that doesnt sound very interesting, Hunt recalls thinking when Cascadia Capital CEO Michael Butler suggested he run Phytelligence. But after a few hours in front of a whiteboard talking with Dhingra, Hunt realized, This isnt your grandfathers tissue culture.
Indeed, it isnt. Calling Phytelligence a tissue culture company is like calling Amazon a digital catalog company.
The difference, says Hunt, is that Dhingra and his students have developed nutrient-rich recipes tailored to a plants genetic makeup. These recipes make the plants grow and multiply at three times the rate of previous approaches to micropropagation. By continually testing plant material DNA, the company also sharply reduces failure rates.
More important: With the new approach, the benefits of tissue culture, used primarily to produce new flowers and other nursery plants, can now be applied successfully to fruit trees.
To grow a rootstock, a nursery traditionally puts a single stem in the ground, waits for it to develop roots, cuts the shoot so more shoots appear the next year, then divides those shoots to create even more rootstock. Eventually, the rootstock is shipped to a tree nursery, which grafts the desired plant variety, such as a particular apple. This process can turn one rootstock into 50 plants in five years. Phytelligences process can make 250,000 in a year.
This is making [specific growing solutions] for not only every single crop but for every single variety, like Honeycrisp, as well as rootstocks, Hunt says.
Not surprisingly, growers are responding enthusiastically to Phytelligences capabilities. Since Hunt joined Phytelligence as CEO three years ago, the company has:
More than quadrupled orders to nearly $23 million.
Raised $16 million from investors in 2017 alone.
Signed licenses with Florida Foundation Seed Producers, giving it the right to grow disease-resistant rootstock for oranges.
Licensed the Midwest Apple Improvement Association to propagate its new EverCrisp branded variety.
Signed a license to help producers in Washington state speed hop propagation.
This year, Phytelligence will begin expanding overseas, an effort that could double its orders. In India, it will partner with Mahyco, a major seed producer, to supply plants and trees to farmers throughout the countrys temperate and tropical regions where fruits, nuts and berries are grown. The partnership is a finalist for a multimillion-dollar contract as part of a World Bank-funded project to plant hundreds of thousands of apple trees. Phytelligence is also looking to expand into South America.
With demand in the United States strong, the company is adding second and third shifts in its Portland propagation lab, which has the capacity to grow 40 million plants a year. It is also adding operations in Florida to augment the eight acres of greenhouses it acquired in Burien in 2016. Hunt says the company will double employment in 2018 and expects to break even.
Phytelligence doesnt sell or license its technology or its highly specialized tissue culture recipes; it sells trees and plants to growers. Most of its sales involve apple trees, since thats where Dhingras genomic research started and thats where the greatest industry need is. But Phytelligence is also growing cherry and pear trees, hop plants, raspberries and hazelnuts. So far, the company has identified 11 crops to grow.
To date, it has sold rootstock, spring buds and, increasingly, small trees with grafted varieties, Hunt says, and in the future it will sell its own proprietary fruit varieties.
Phytelligences goal is to achieve a 2 percent market share in each of its 11 crops, which Hunt estimates would generate $147 million in orders by 2020. That figure may be conservative, considering the immense challenges Phytelligence helps growers overcome.
When Dhingra joined WSU in 2006 as head of its biotechnology research lab, his focus was on mapping the genome of the apple, pear, cherry and grape. But he also wanted to fulfill the land grant universitys mission of using science to help solve commercial growers problems.
Talking with apple growers, he learned that most bought dwarfing rootstocks rootstocks that grow to become smaller trees and produce fruit faster and grafted varieties with the goal of getting fruit in six to seven years. The smaller trees can be planted closer together, require less water and labor and produce more crop per acre.
However, the best new rootstock for apple growers, the Geneva series, a rootstock prized for its resistance to fire blight and replant disease, faced obstacles. It was released in 2009 after 30 years in development, but nurseries couldnt reproduce it well or fast enough to supply grower demand.
Commercial partners are sold out until 2021, says Gennaro Fazio, lead apple rootstock breeder at USDA ARC Plant Genetics Resources Unit in Geneva, New York. Thats largely because it takes years to grow rootstocks the traditional way in stool beds, and because the 20 or so companies, including several micropropagation labs, were all having trouble multiplying the new rootstocks.
To make matters worse, 10 to 40 percent of the plants died after they were planted because of damage during transplanting or pests and diseases in the soil, says Dhingra. And many of the plants, once they took root, proved to be completely different from what the growers had ordered.
Armed with that knowledge, as well as with the apple, pear, cherry and grape genome maps, Dhingra began setting up his Pullman lab to test several ideas he had for addressing such problems. With the resulting tissue culture recipes and greenhouse techniques, he launched Phytelligence in 2012.
For decades, Dhingra explains while walking through the companys Burien greenhouses, scientists based their micropropagation techniques on a formula for tobacco, which, for most purposes, was good enough. But he knew from prior research that each plants unique genetics meant that it also had unique nutritional requirements. To get superior results, he needed to create nutrition-rich growing material specific to a plants genetic makeup.
When our protocols are combined with our greenhouse processes, we can compress three to four years of growth to one year, says Dhingra.
Phytelligence creates four formulas for each rootstock or variety, tuned to various stages of the plants growth (see illustration). It then uses specially formulated sterile potting mixes tuned to the various stages of the plants later growth in the greenhouse.
Every tree it grows saves 50 to 80 gallons of water because Phytelligence starts plants in growing material in the lab. Where it takes three to five years to get a tree from a rootstock nursery, Phytelligence can provide a rootstock in one year; a whip, which is a young tree about two to four feet high with no branches, in two years; or a more fully developed tree with branches in three years. Where growers were once told the popular Geneva rootstocks would not be available until 2021, Phytelligence can now supply them in a year.
Phytelligence also slashed the time it took to supply plants by grafting desired varieties onto rootstocks early in their growth. This allowed growers to buy from the company a fully formed young tree rather than wait for the plant to be grafted by nurseries.
Offering a grafted tree is totally a game changer, says Craig Campbell, owner and grower at Harmony Orchards in Tieton, west of Yakima. Now he can obtain trees in just a year rather than ordering two to three years in advance for rootstock and then waiting to graft them.
We have 3,000 pear roots as an experiment, Campbell says, adding fully grafted trees werent available in 2016. We received them a full year earlier than if we went through a nursery. Planted in May 2017, the rootstock had a 96 percent survival rate, he adds.
Hunt says the company gets calls daily from growers of other plants and trees wanting Phytelligence to grow their crops. He listens, but theres one plant Phytelligence wont be fast-tracking anytime soon: marijuana.
There are too many challenges, Hunt says. No federally insured bank wants to be involved. Also, people arent trying to break into our greenhouses to steal apple rootstock.
This article appears in print in the January 2018 issue. Click here for a free subscription.