Bike Share in Seattle Is on a Roll
Seattle riders took 480,000 trips on 10,000 bikes through the city's dockless bike share program.
By Kevin Schofield June 6, 2018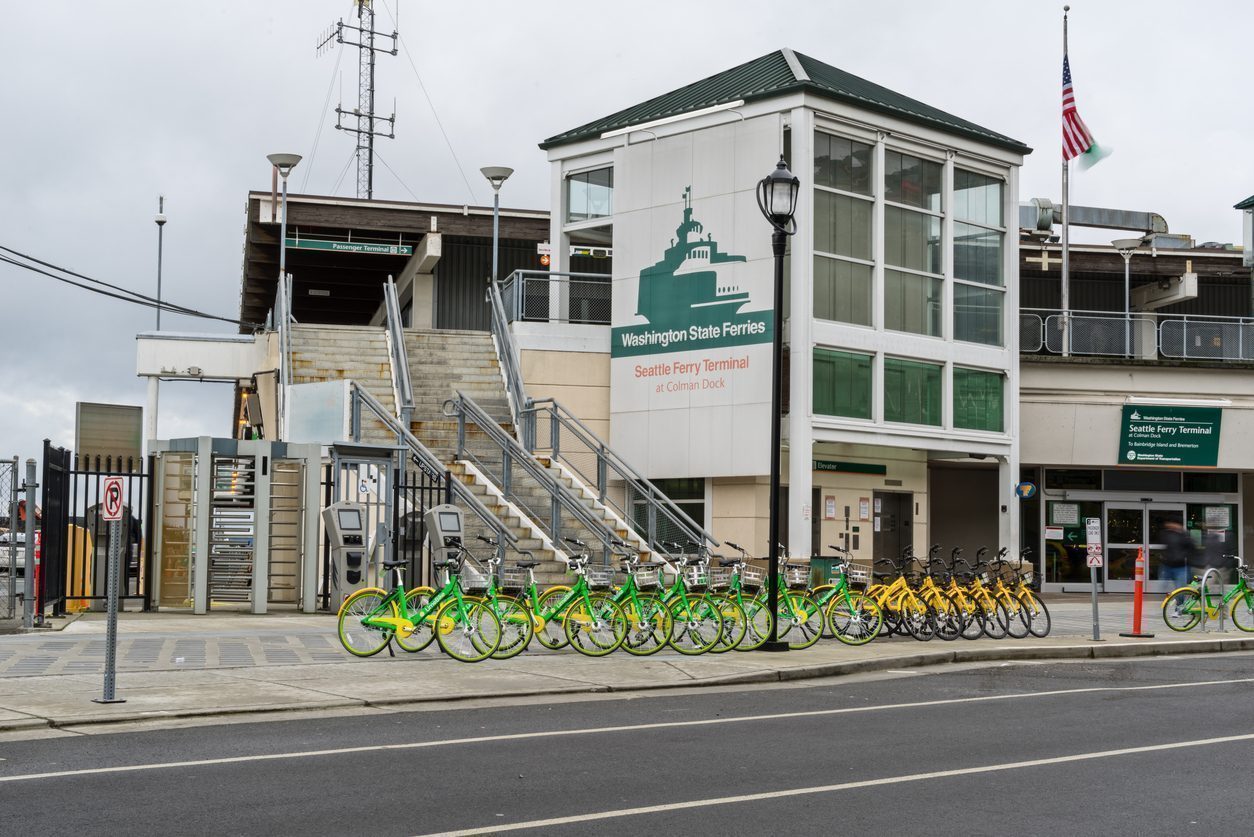 This story originally ran on SCC Insight.
This week the City Council heard a preliminary report on a study that SDOT did from July to December last year on the rollout of privately-operated dockless bike share programs in Seattle.
It was preliminary in that the final report isnt quite finished; todays presentation was the evaluation part based on data that SDOT collected with the help of the three bike share companies and UWs Transportation Data Collaborative.
First, some numbers on the deployment and take-up of the system:
By December 31, the three companies had collectively deployed 10,000 bikes in Seattle. Today, that number is still around 10,000, though about 1,400 of them are electric-assist bikes.
Deployed bicycles per month, July-December 2017
Seattle riders took 480,000 trips on those bikes, with the numbers steadily increasing month-to-month last fall as the bikes were deployed until the weather turned nasty in November. Even with that, the overall ridership was much higher than Portlands bike share program.
The bike trips were spread across the whole city, more so than expected. There was still a high concentration in the center city and UW, and weak usage in the far northern and southern parts of Seattle, but in South Seattle and the Rainier Valley usage was higher than expected. The area outlined in white on the map below was the service area of Seattles failed Pronto dock-based bike share system.
Still, equity issues remain. SDOT compared the usage map with a map of areas of the city prioritized by key equity issues (displacement risk and access to opportunity) and to no ones surprise, the highest-priority areas for equity issues often didnt fare well for bike-share usage. Partly this is due to some underlying access issues, like the reliance on a smartphone to access the bike-share systems and a credit-card to pay for use.
SDOT reports that about 24 percent of bike-share users wore bike helmets; UW and Harborview did a study on the bicycle collisions during the second half of 2017, and concluded that the bike share system didnt increase the collision risk. This squares with some conventional wisdom that having more bicyclists on the streets makes automobile drivers more aware of bicyclists and constantly on the look for them actually making the roads safer for bicyclists.
62% of the bike-share users wee male, though more women than men were non-users who were willing to try it. Most of the users were in the 25-44 age range. Its interesting that they found little racial disparities: about 1/3 of each sub-population had tried the bike-share system. This is particularly surprising given the equity issues that still exist in the deployment.
Bike-share users reported primarily using the system for:
– Getting home from work (more so than getting to work in the morning);
– Getting to social activities (though biking wasnt the social activity itself; less than 7% used bike-share for recreation);
– Running errands;
– Accessing transit (e.g. biking to a light rail station)
74 percent of people surveyed (a broad sample of Seattle residents, not just bike-share users) had a favorable view of the bike-share system. About 1/3 had at least tried it; another 1/3 had not tried it but were willing to do so; and 1/3 were unwilling to try it. Among the things they liked about the system:
– it reduced carbon emissions;
– it was fun;
– they werent worried about their bike being stolen.
Among their dislikes:
– there are not enough comfortable and/or safe bike routes;
– there are too many scofflaws, i.e. bike share riders not wearing helmets and/or not obeying traffic laws;
– too many bikes are mis-parked.
On that last point, SDOT did its own field studies to estimate how many bikes were parked incorrectly. Based on their sampling, they estimate that about 70 percent of bikes were parked correctly; 26 percent were partially blocking a walkway; and 4 percent were fully blocking a path.
In response to todays presentation, Council member Johnson encouraged SDOT to stay focused on getting bicycles (and e-bikes) right, and not to spend a lot of time trying to incorporate scooters and other types of personal vehicles into the bike-share mix. Council member OBrien was thankful for the rich data, but wanted to know more about how the roll-out of e-bikes is going that started after December 2017 so it wasnt included in this report, but SDOT continues to collect data so that should be in future reports.
The one-year bike-share pilot program ends in July. SDOT expects to bring a set of recommendations to the Council later this month in the hopes of getting approval to extend the pilot with revisions to address the most pressing issues.